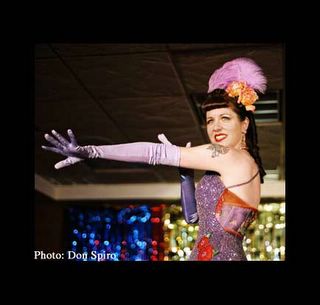 My sister-in-law Sharon, aka
Venus De Mille
, was just named the 2005 Legend in the Making at
Miss Exotic World
, the premiere burlesque competition! Congratulations, Sharon! As far as we're concerned, you're a legend already!
Sharon dances with
Velvet Hammer Burlesque
, which is a cool company in so many ways. They are a very woman-friendly troupe; the director doesn't allow dancers who have had plastic surgery, so their shows end up being real celebrations of women's bodies, in all shapes and sizes. It's always a very exuberant, tongue-in-cheek, vintage-tinged revue. And Sharon, who works in the costume shop for the LA Opera, makes the most amazing costumes (check out the Venus DeMille link for some of her creations); she puts on quite a theatrical extravanganza. Legendary, to be sure!